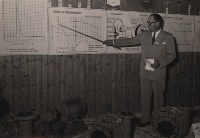 Some decades ago, when Emile Egger aspired to enter higher education following his apprenticeship, he was confronted by numerous difficulties, financial in particular. So that young apprentices in the canton of Neuchâtel do not find themselves in a similar situation; and in Emile Egger's memory; his son Mr Walter Egger and his wife Mrs Béatrice Egger (Göldlin) created this foundation.
As described above, it is thus a desire to assist that guides our activities and our choices. However, we are also motivated by another goal. Several generations of the family being active in this enterprise, the communication of certain values are close to our heart. Indeed we would like our future grant holders to raise; as we do, the value of the pursuit of excellence, perseverance and integrity.
As his studies progress, we would hope to see in the grant holder a constant desire to improve himself. His wish to pursue his studies within an HES is already a perfect illustration of this. In the face of difficulties, to demonstrate the wish to overcome them is precisely in keeping with this concept.
Moreover, a certain self-denial and constant motivation, despite the work load or its complexity, appears to us to be necessary for the grant holder to succeed.
Lastly, the frankness and courage to express his opinion are crucial in our view to guarantee a durable and constructive relationship with the grant holder. Successes will be valued. As regards problems, they will be identified, discussed and resolving them will be handled in an active and honest manner.
It is with this vision, these objectives and these values that we wish to inspire this foundation, so that it may perpetuate, bringing to our region and to its apprentices real possibilities of being assisted and guided on the road to success...